What a glorious day we had of it! Despite the bitter cold over 20 volunteers and archaeologists turned up this week to spend a day clearing vegetation around the little-known ruin of Newbyres castle in Gorebridge town centre.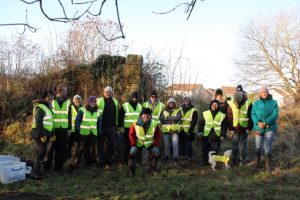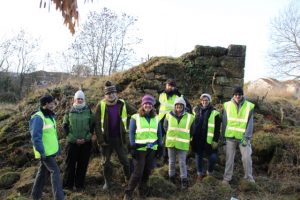 Newbyres castle was 'adopted' by the Adopt-a-Monument Scheme run by Archaeology Scotland last Summer. Last week saw the first community volunteering day, led by myself on behalf of Gorebridge Community Development Trust and Rebecca Barclay of Archaeology Scotland, to start conserving the remains of castle. The sun shone and we had a very enjoyable day, including a delicious lunch made and served up by Gillian and her mother in GCDT's office down the road.
Newbyres castle was 16th century L-plan, thee-storey tower house built by Michael Borthwick of Glengelt. He acquired the land from James, Abbot of Newbattle in 1543 with the consent of Mary Queen of Scots, patroness of the abbey. It was bought by Sir James Dundas of Arniston in 1624 whose family went on to use the castle as a dower house. In 1993 the ruins were classed as a scheduled ancient monument by Historic Environment Scotland.
Adopt-a-Monument is a nationwide community archaeology scheme that provides practical advice, training and help raising funds.
The volunteers included archaeology students from Edinburgh University and a group from Midlothian CAT (Community Access Team) and Gorebridge and District Environmental Group (GADEG) as well as people from Gorebridge. The task of the day was to remove all the vegetation from around the ruined keep without disturbing the stones themselves.
The next stage will be to have an archaeological survey done, clear away some of the rubble and consolidate the ruins that remain. This will be done in partnership with Archaeology Scotland and Historic Environment Scotland as well as Midlothian Council, who own the land.
Finally GCDT intend to landscape the area and hope to add two features – a small amphitheatre for groups such as local primary schools to use and a small timber tower relating to the original 16th century tower and built with the help of the community in a similar way to Wooploft, a large treehouse, built with Tynewater primary school pupils in 2013.
GCDT will be running further volunteering days that will have an educational aspect included such as conservation workshops and historical talks. Please contact us if you would like to know when the next day will be.