As you know in our quest to encourage as many people as possible to travel with the planet in mind we have been running a regular buggy walk group for local mums and babies.
We have been told again and again by mums that they can find it a real struggle to get around by public transport to attend important appointments or to get to activities with buggies in tow.
So today today, we welcomed the lovely Kimberley Goudie Mitchell from Honobaby in East Lothian to the Pop-Up Beacon and the Greening Gorebridge Project.
She was wonderful with the mums who came along, and gently showed them how to best fit and wear their babies based on either the sling they already owned, or or helped them in trying out a sling for the first time!
Kimberley came along with a huge stack of slings, all sizes, materials and constructions for mums to have a go (only half of her library!)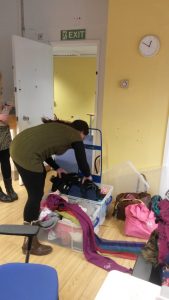 We even had a 9 day old baby along today and Kimberley was able to recommend just the right sling to get started with…and mum happily went away to buy her first sling.
We really hope that by trying out these slings and feeling more and more confident in them, mums will be feeling raring to go on regular walks while wearing their baby, and will have much more freedom on where they can walk with their babies in the local area.
If you are interested in having a regular sling library session in Gorebridge, or if you are interested in joining us for our weekly walks for all in Gorebridge please get in touch with Jaimie on jaimie.macdonald@gorebridge.org.uk.
Weekly walks for all– those that can walk at a reasonable pace- mums and buggies, solo adults or small groups of fiends can join us. Mondays- 10:30am-12pm. Up to 1 hour walking. Meet at Pop-Up Beacon 55 Main st, Gorebridge. session are running until November 27th.