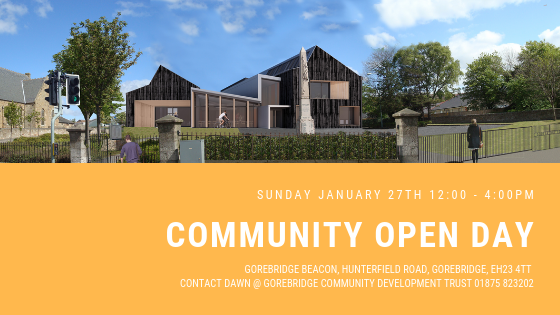 We would like to throw open the doors and welcome members of the community to The Beacon on Sunday 27th January 12 – 4:00 pm. The purpose of the day is for community – old and new – to come together and find out about all the amazing groups, organisations, workshops, classes and services that will be happening here (and, hopefully, jump in and get involved!)
Would you like to attend? To take a table/stall (provided) and share your work?
We are also looking for some of those attending to deliver a fun activity or organising a little demo, if appropriate. We will be using the whole Beacon, so there is plenty of space to set up.
Additionally, when the doors close at 4:00 PM, please join us for a small soiree – otherwise known as 'networking' – for an hour afterwards.
If you can and would like to come, please contact (dawn@gorebridge.org.uk) for a booking form.