Little is known of James Burnett Smith prior to his relationship with his wife; author Annie S. Swan. In fact, the only real information we can gleam during a cursory research of his biography is that in the years immediately preceding their relationship he worked both as a teacher at Star, Markinch, and later in Gorebridge, Midlothian at Stobhill Public School. This article will  shed some light on the life of Annie's husband, another Gorebridge resident who had a major impact on public life and discourse.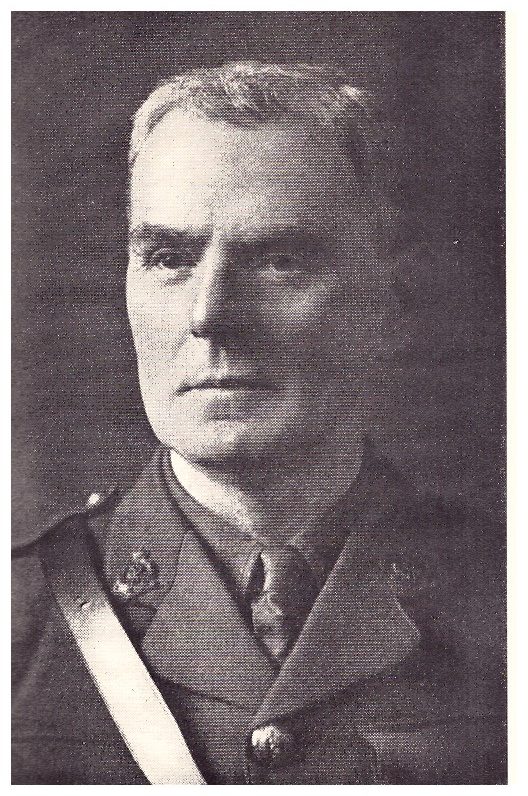 Although James had spent his time in Gorebridge working locally as a teacher, he always sought a career in medicine and he chose to leave his teaching post at Stobhill to pursue his qualifications in Medicine at Edinburgh University (a local paper later said of the  switch : 'it soon became clear that the little schoolhouse couldn't contain this brilliant young couple long'). As today, study was not an inexpensive pursuit; fortunately, however, Annie's career in writing was beginning to flourish at this time, the 1880's, and her work wass therefore able to act as the primary income of the household while James attended university – a peculiar family dynamic at this time.
After gaining his qualification James, and Annie, along with their two young children Effie and Eddie, moved south to Herefordshire where they would become a central part of the public discourse. More than once James would be elected Mayor of the county, becoming the leading figure amongst the 'Scottish contingent' in the area. There influence was so marked, that both James and Annie succeeded in establishing a Church of Scotland in the small town.
It was not long, however, before tragedy struck the family – a tragedy which had a marked impact on James. The family's youngest, Eddie Burnett-Smith, died in a brutal rifle accident in one of the family's homes in Scotland during the school holidays. he was not yet a teenager. Annie, in her autobiography, discusses the impact this had on James:
My husband, usually so strong and calm and independent, collapsed utterly, and I was so anxious about him I had to crush down my own sorrow and stand by for any emergency.
His anguish was frightful, and accentuated by the fact that he had bought him the gun and taught him to use it.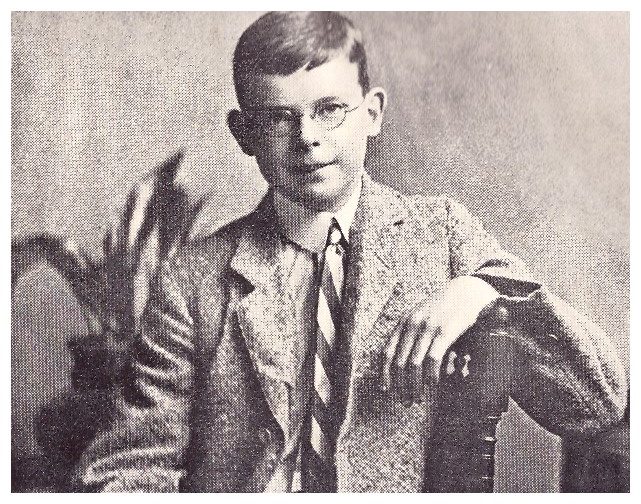 Annie's strong conviction in her faith was able to pull her through the ordeal whilst  James, on the other hand, greatly struggled to reconcile his faith with the tragedy, and as Annie mentions, carried a shadowing sense of guilt over the nature of the tragedy.
In the following years, and before the Great War, James would gradually return both to work and public life. Throughout  this time his reputation for proficiency in medicine was readily recognised, as this newspaper report highlights:
In England a sharp distinction is drawn between the physician and the surgeon, and the one will not encroach on the other's province. But Dr. Burnett Smith was both physician and surgeon. He did a great deal of surgical work and treated in their own homes many patients who would have otherwise have had to go to hospital or nursing homes.
It wasn't long, however, until James, the Swan's and the country were forced, like many others, into a darker time. James' experience of the war was both in many ways unique and yet all too familiar in others. Too old to answer the call originally, he maintained his determination to enlist. After what Annie describes as 'knocking on the door of the MoD' for months, he was finally enlisted as a medical officer in the Black Watch. This would immediately lead him to station in Norwich before being sent East – spending time in Northern Europe and eventually the Mediterranean.
On May 4th, 1917 James' war would come to a sudden end with the sinking of his troop ship in the Mediterranean sea – an event which would seriously effect his health until his death. The S.S. Transylvania was sailing from the coast of Marseille to Alexandria, accompanied by two Japanese destroyers – Matsu and Sakaki. At 10am that morning, 2 miles out from the Italian port town of Savona, the Transylvania was torpedoed by German U-Boat U-63. While the Matsu assisted in evacuating the ship, the Sakaki continued to circle the waters to keep the submarine submerged. A second strike, aimed at the Matsu, would also strike the Transylvania and the ship was immediately sunk. In total 414 men lost their lives in the attack.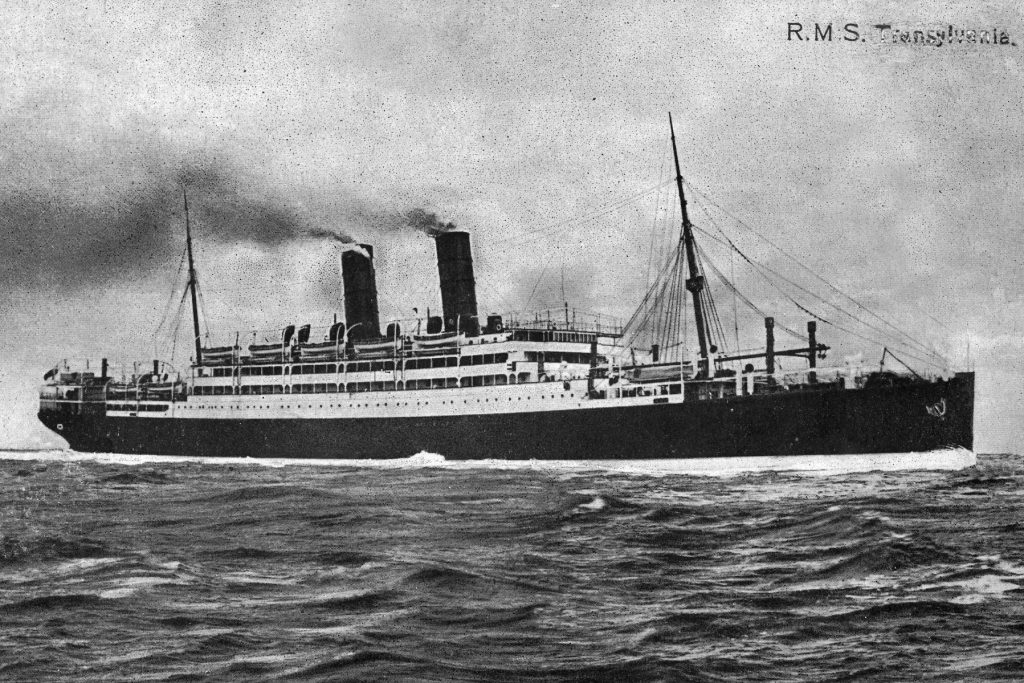 According to his own accounts and newspaper reports, James was one of many men left floating in the Mediterranean for a number of hours before he was rescued by another Japanese ship. This would unfortunately lead to him developing what was reported as 'a serious illness which no doubt the malady to which he later succumbed.' As a result of this illness (which would have been exacerbated by his age), James would be discharged from service and return home – where he would remain for the rest of the war.
After the war, James didn't take long in returning to the practice which had dominated much of his life prior to the conflict. Added to that, the citizens of Hertford twice elected him their Mayor – owing to his popularity and respect with which he was held within the community. Even after retiring and returning to Scotland, the doctor was still eager to play a role in public life and was repeatedly voted on to the Fifeshire Educational Authority as well as 'always busy with affairs at his beautiful home.' It becomes apparent that, at this time, James was keen (along with his wife) to maintain active in public service – often assisting his wife in her public appearances.
The illness which James developed during  the trying ordeals he faced during WW1 persisted and became more pronounced in the 1920's. Eventually, come 1927, he would pass away at his family home in 1927, aged 80. Annie reflected upon his death as follows: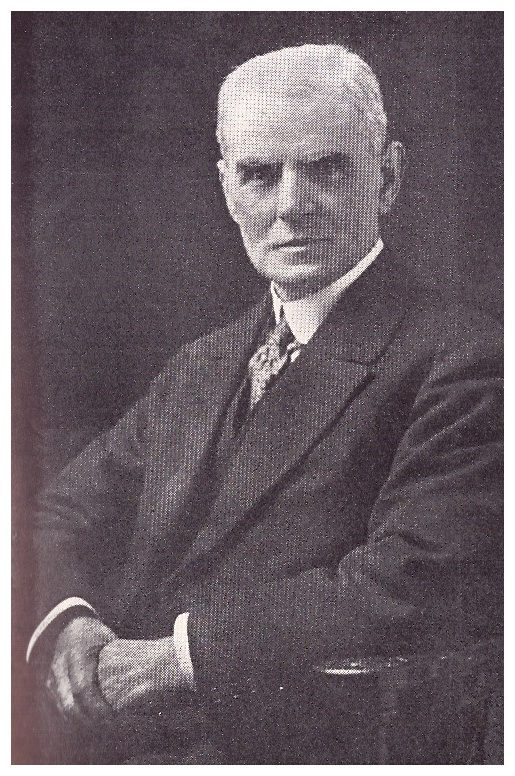 During these desperate last days, when I kept vigil in the night watches, I was profoundly aware of the awful loneliness of the human soul.
Even when he was still with me , in a sense I had lost him… He was beautiful in life, but in death there was upon his face a majesty which laid a hush on my riven heart and dried my tears
James would be buried at Kinghorn, Fife, alongside his son Eddie. The headstone would be engraved 'In death they are not divided.'
Perhaps it is best to conclude with this piece from his obituary, shortly after his death on May 24th 1927, aged 69, in The Courier and Advertiser as they address his more personal nature:
Dr. Burnett Smith was a man of few words. He knew well when and how to be silent, but his very nature was of infinite kindliness. His very quietness inspired trust and confidence. He was the ideal physician, bringing hope and healing to many an afflicted one.