Funding awarded: £2000
In spring and summer of 2018 GCDT were busy working with the wider community of Gorebridge to create a wildflower meadow area adjacent to the ruins of Newbyres Castle.
This often overlooked green space, nestled behind the historic Main Street is a treasured haven for plants, birds and insects. With the support of funding from the Grow Wild project and the helping hands of children from the nurseries, schools, community groups and volunteers work took place to enhance the biodiversity of the area by sowing and growing native wildflowers to be planted in the area.
Midlothian Artist Fiona Maher delivered a number of community-based workshops inspiring community plant conservation through art by designing a wildflower graffiti design for the meadow space. Midlothian Council Landscape department are helping in preparing the ground, spreading the subsoil and putting in a protective fence to allow the seedlings time to safely establish. This is a long-term community project with nature doing most of the work!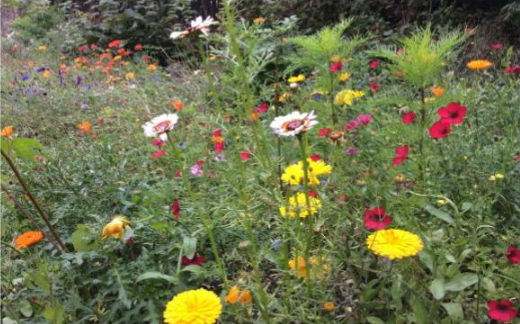 Why improve this area which many will say is already wild?
The UK has lost over 95% of its wildflower meadows since World War II and with this its pollinators that are vital to humans.
There is pressure on nature from building for accommodation and business, to people paving over their green spaces and cutting down trees. Urban areas are one of the most biologically diverse habitats in the country.
Newbyres has indicator species that show it was at one time a site of ancient woodland, long before the village was built. This information tells us a story about the history of our environment and signals the actions we need to take to stop the "ecological apocalypse we are presiding over" as Chris Peckham describes in his July 2018 Bio Blitz campaign across the UK. He is not alone in this vocal campaign to take action to protect the wildness of nature with many key Conservationists and Organisations promoting action to protect species especially with changing climate across the world and pressure on natural resources.
With this project, we aimed to support the ethos of Grow Wild and Kew Gardens by promoting and supporting action on a local level. We hoped to change the mindset and attitude that everything has to be neat, tidy and highly managed. Nature isn't about everything being in rows with bedding flowers which are ecologically sterile and offer nothing to pollinators.
The UK is home to remarkable and beautiful wildlife but is also in big trouble.
In the case of some species, this means we are fast approaching the last chance to make a difference.
The Gorebridge Rewilding Grow Wild project supported the creation of a valuable wildflower-rich habitat that will help both pollinators and people. Inspired by the project Nature Artist Paul Hodges has created a beautiful series of boxes to highlight the biodiversity treasures of the UK (an exhibition to follow later in 2018) with species that are under threat from our countryside. They are truly amazing.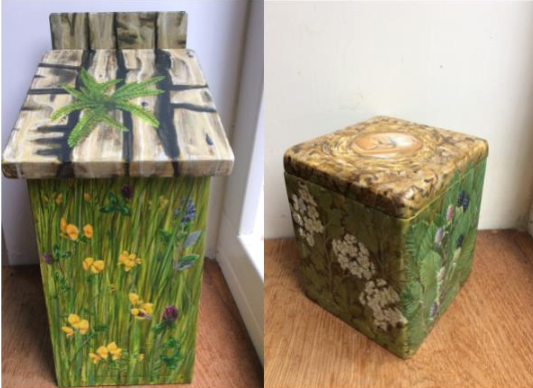 It is not just the loss of species that is of concern. Many Conservation organisations, including Kew Gardens are working with communities across the UK to bring people back into harmony with nature. Areas such as Newbyres Castle matter. The loss of connection to nature across the UK has been having a recognised and measurable negative impact on our health.
Who doesn't get a good feeling from hearing a bird sing, spotting wildflowers on the verges or breathing in the beauty of the trees? Being in natural spaces improves our own wellbeing over time in nature being prescribed by many medical practitioners to improve physical and mental health.
We hope to shine the light on taking action to protect our green spaces. Nature Reserves are not enough and all green spaces play a vital part.
Help us make that difference by continuing the work of Rewilding Gorebridge. To find out more about the project, volunteer training available in conservation and horticultural skills along with upcoming events go to www.growwilduk.com/community-projects
Rewilding Gorebridge was funded by: