The Trust are delighted that the Greening Gorebridge project has been awarded a grant of £85,000 from the Scottish Government's Climate Challenge Fund to continue and expand the project for 2017/18.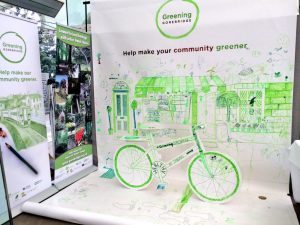 The Greening Gorebridge project exists to bring people in the community together to connect with their surrounding environment, enabling transformation of simple things in our daily lives that tackle the challenges of climate change.
The focus for this project continues to be on sustainable transport choices and now extends its activities to food, cooking and food waste reduction, as both choices in food and transport impact on the health and well-being of the community and environment.
The Greening Gorebridge project will be offering free support through a variety of workshops to be held in the community throughout the year to help support people to choose sustainable travel and cooking options as well as supplying useful information on food waste, travel and climate change. Events, workshops and activities will be creative, inspiring and supportive in the journey to make Gorebridge to a healthier, happier active low carbon community.
We are hosting a Bike and Food Festival event on Saturday 10th June 12-4pm. This will be held at Auld Gala park, opposite Gorebridge Primary School.
This will include a variety of different activities for all the family to enjoy, such as, a bike skills track supplied by RUTS, led cycle rides for folk who are confident on a bike, the chance to cook simple and delicious food on the fire, make a smoothie by cycling a bike and have your face painted with some fun designs. There will also be a selection of food stalls to keep you fed and watered throughout the afternoon.
The Climate Challenge Fund (CCF) is a Scottish Government grant programme, managed and administered by Keep Scotland Beautiful. The CCF provides funding and support for community groups to help tackle climate change by running projects that reduce local carbon emissions. 622 communities across Scotland have benefitted from CCF grants totalling £85.8 million.