We are very excited about the fact that Greening Gorebridge started collecting uniforms at the beginning of June just before schools closed for the summer holidays. Linda, who works at the Trust Office, has been tirelessly washing, ironing and bagging all the uniforms that have been handed in.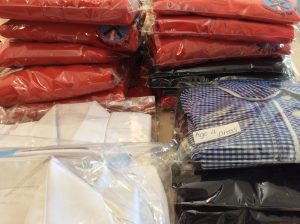 A staggering 350 000 tonnes of used clothing goes into landfill every year. Not only is this a missed opportunity to save money but it is also a huge environmental loss. This is because the best way to reduce the environmental impact of clothing is to increase the active life of the clothes we wear. If clothes stayed in active use for nine months longer (extending their average life to around three years), this would reduce their carbon, water and waste footprints by 20-30%.
School uniforms in particular tend to have a lifespan of less than a year, as children grow so quickly. By using second hand uniforms, you are doubling the lifespan of the clothes, significantly reducing your environmental impact and saving money.
We have accumulated quite an impressive stack of blouses, polo shirts, shorts, trousers, skirts, dresses, t- shirts and even shoes in different sizes. We also have Stobhill and St. Andrew's school jumpers.
All uniforms that have been donated to the Greening Gorebridge Project are free to a good home, however people can give a small donation to help pay for the washing powder and bags if they want to make a contribution. It is also still possible to contribute by donating any old uniforms.
All the uniforms will be available at the Nearly New Sale at Gorebridge Parish Church from Tuesday 1st August. These sales run on Tuesdays from 10am and the uniforms will be available there till the end of August.
For up to date information on this project please like the Greening Gorebridge Uniform Exchange facebook page